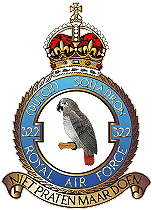 ---
322 SQUADRON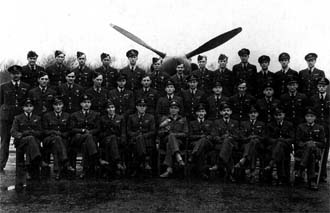 When the Germans attacked the Netherlands by surprise, they had 124 aircraft ready to fly. Many of them were not or light armored recon aircraft. This small force had to face an enemy who had 2768 aircraft available. Unfortunately many of the aircraft were allready destroyed by bombs before they could take-off. The best Aircraft the Netherlands had was the Fokker G-1. Of the 23 only 9 were still ready for action after the first attacks. Some more could be repaired. 7 kills were cliamed by G-1 pilots. Numerous others (mainly Ju-52's) were destroyed while on the ground, after having landed on highways and airstrips to deliver troops. The Fokker D-XXI was slow compared to the Bf-109's, but it could easily out turn them. The fleet of 29 Fokker D-XXI's had 18 losses during the first day of war. They scored at least 21 kills during the first day. During the four days of war the Germans lost at least 345 aircraft in the Netherlands (some even claim 500). 230 of them were Ju-52's, which meant that three quarters of the total trooptransport fleet was destroyed. A heavy loss for the Germans who were used to dropping troops when they atteacked. Especially with the Battle of Brittain in front of them. Dropping troops now was nearly impossible. Almost the whole Dutch ait fleet was destroyed. in those four days. The Netherlands surrendered after the Germans (who planned to take the Netherlands in one day) threathened to bomb cities. Still the Germans bombed Rotterdam.... We will never know if that was a mistake or not.....
The troops in Zeeland kept on fighting together with a small French force which came to help. This made it possible for the Airforce shool and many pilots to escape to France taking some aircraft with them. Unfortunately they had to leave the aircraft in France. The Navy managed to bring some Fokker T8W's over to England. 20 of the escaped men were trained pilots, 75 student pilots and 50 ground engineers. Soon the 320 squadron was formed using these aircraft and the escaped pilots. Other pilots were spread over the RAF.
Because the dutch did not keep official recoeds on the kills, The RAF did not count those kills for the pilots, like they did for other countries. Because the Dutch entered the active squadron of the RAF late, there is only one Dutch/Canadian ace: Hugh Constant Godefroy with 7 kills. He was wingleader of wing No 127 and scored 7 kills. The next one was Mosquito nightfighter pilot C.J. Vlotman with 4 kill (5 were needed to become an ace). The Dutch of 322 did score against the V-1 Burgwal scored 19 kills and Plesman 11.

The first steps to form a Dutch fighter squadron were taken on july 24. 1941 when prince Bernhard spoke with kapitein J.P. Berdenis about the possabilities to form such a squadron. It would be hard to find at least 25 Dutch fighter pilots in England, which were needed. This was becasue many Dutch pilots also fought in Indonesia and Australia and becasue many of the escaped Dutch pilots allready in 1940 formed the 320 bomber squadron with the Fokker T8W they had taken with them from the Netherlands. The plans progressed when in april 1942 the 167 'Gold Coast' squadron was formed. This squadron under command of Sqd.ldr. Charles Edwards was based at Castletown and one flight under command of Flt.lt. Van den Honert was Dutch. This squadron had the markings VL. Because 167 had a Dutch wing the squadron leader was nicked 'Charley Orange'. The 167 squadron flew mainly partols to protect the allied ships and dusk partols to intercept enemy aircraft taking advantage of the falling night. Though this was very usefull work it did not bring much action. In september 1942 prince Bernhard visited the 167 squadron. In october 167 moved to Ludham, from where it flew fighter sweeps, escorted bombers and did ground attacks in France and Belgium. These actions, illnesses and transfers were the cause that at the end of 1942 only three Dutch pilots were left. On may 21. 1943 167 moved to Westhampnett to move on to Woodvale three weeks later. Here happened what the Dutch had hoped for: on June 12. 167 was reformed to the 322 Dutch squadron.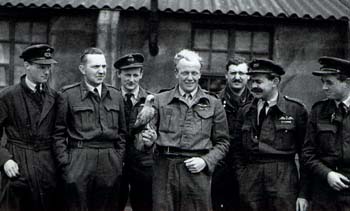 The tasks of 322 are: high altitude patrols to intercept recon aircraft, bomber escort and recon flights above France. Later they would intercept V-1's and do ground attacks. During the Woodvale periodthe flights were familiarisation flights, close formation training, dogfight training, night flight training nd gun practice. Two aircraft were ready for scramble. They only had to scramble 8 times for lost friendly aircraft. The first squadron leader was A.C. Steward and most of the 23 pilots were British. Only the Flying Officers J. van Arkel, L.C.M. van Eendenburg, J.W. van Hamel, J Jonker, E.J. Baron van Nagell, J.L. Plesman, Pilot Officer N.W. Sluyter and Sergeant J.A. Maier were Dutch. Many men of the ground crew needed were recruited from the Prinses Irene Brigade. Often men not very fit for field actions were transferred. Allmost all pilots in the new 322 squadron came from 167. The first two flight commanders flt.lt. A.R. Hall and flt.lt. M.G. Barnett came from South Africa and New Sealand. But soon fresh Dutch pilots joined the squadron.
Like 167, 322 flew with the spitfire Vb. Allready on june 22. majoor K.C. Kuhllmann from South Africa became the squadron leader. He introduced a new formation. Untill then 167 and 322 allways flew in three rows of four aircraft. The pilots had to concentrate a lot on eachother, consuming time to look out for the enemy. When the enemy suddenly attacked the rear line most often were the victims. From then on 322 used the line abreast formation, later changed to the finger four which is almost the same, only the inner ant outer wing change places in a trun to make manouvring easier. On januar 1. 1944 322 moved to Hawkinge and became operational to escort B-25 Mitchell bombers. Often they escorted the fellow Dutch of 320. 322 also escorted them on their first operational flight on januar 4. Beside that they did defensive patrols, ship recon patrols and air-sea resque patrols.
During this period 322 got it's official crest: Polly Grey. On june 12. In july 1943 N.W. Sluyter bought the parrot Polly Grey. After the shield of Rotterdam (bombed to force the Netherlands to surrender) with the line 'Wij zullen vergelden' (We will revenge) was rejected, the idea was born to use Polly Grey as mascotte. Because Polly could not speak the line became 'Niet praten maar doen' (Don't talk but act). Because king George VI rejected the vinger Polly was sitting on it was replaced by a twig. Early 1944 322 got the Spitfire XIV which was meant for high altitude inteception. The pilots had got get used at flying high without pressure cabins and oxigen. During a training fight with Typhoons Flying Officer G.P.C. de Neve died. He dived into the ground fom a high altitude. This was the first loss for the squadron. Feeling dizzy and fine were the first signs of passing out when one had lack of oxigen. on april 11. this happened to J.W. van Hamel. He crashed near Rothbury. 1944 queen Wilhelmina and prince Bernard visited 322 on their 1st birthday.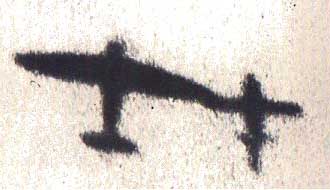 On june 20. 1944 322 moved on to West Malling to fight the V-1 bombs with their new Spitfire XIV's. During the period from june 18th to august 11. 322 had some success in operation Crossbow downing 110 1/2 V-1's in 1932 flying hours and 1761 flights. On june 18., due to lack of ammo, Flying Officer tries to tip a V-1 with his wingtips, to make it crash. He fails, but a few days later Flying Officer F.J.H. van Eijk tries the same and succeeds. This trick will become widely accepted untill the germans make buttons on the V-1 to detect the wing tipping. on juli 12. J.A. Maier is killed by an exploding V-1. Fighting V-1's still was a dangerous task: sometimes the pilots shot while flying too close to the bomb. This resulted in damaged or black Spitfires. Often the pilot had to open his canopy because he couldn't see a thing anymore. One pilot got killed when an American Mustang shot the V-1 he was trying to down with the well known wing tip. The V-1 exploded, taking the Spitfire into it's destruction. R.F. Burgwal became the top scorer with 18 kills, unfortunately he was missing on august 12. after escorting a raid on Orléans. On juli 30. N. van Beers soorts the 100th V-1 it is his own 11th kill.
When D-Day was comming the allied were reorganized. Before that 322 was part of the No 11 Group, as part of the reorganisation 322 was transferred to the No. 141 Wing of the No. 85 Group.
While in England, pilots on leave often stayed at the Aeroclub or Hollandse club in London. They often met at Oddenino's near Piccadilly Circus, the Brevet Club or at Sheperd's. Beside that there was Oranjehaven. Diner was often at the Chinese or a cheap restaurant in Soho. People preferring a quiet stay could go to Dogmersfield Park. since august 1940 this place was a home for Dutch officers.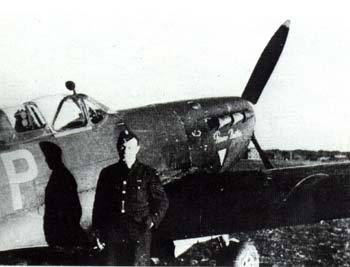 On august 11. 322 got a total new task. Together with 91 squadron it would supply close air support to the troops fighting in Europe. To fulfill his task 322 was equipped with the Spitfire IX. Beside the CAP actions 322 also escorted bombers on attacks behind the frontlines and did fighter sweeps. These actions were risky, what also was proved by the gaining losses. Feared was the German 'Flak Trap' When a pilot tried to radio groundcontrol for his home vector it happened that the German groundcontrol answered, leading them to a place with heavy FLAK. Many allied pilots were killed this way. This also happened to 322 pilots. Bert Wolters managed to escape twice from a FLAK trap.
September 1. 1944 was a black day in the history of 322. On the first flight of that day squadron leader K.C. Kuhlman was shot down by german FLAK. He was seen bailing out near Cape Gris Nez . He was captured by the Germans. Later that morning on the second flight both flight leaders were hit. flt.lt. Van Eendenburg was hit by FLAK. Others noticed he went on his nose while ditching near St. Omer. The pilots thought he was wounded. flt.lt. Jan Plesman (son of the KLM director) dived from 3000 ft straight into the ground and got killed. Van Eendenburg managed to stay out of the hands of the Germans and a French farmers boy gave him clothes and hided him. Soon after he crashed St. Omer was liberated and Van Eendenburg handed over 22 Prisoners Of War to the allied soldiers! On september 12. he returned to 322 together with another pilot who was shot down a few days earlier. He would from that day be the first Dutch squadron leader of 322.
Kapitein Cramerus was the first to land in the Netherlands. After being hit above Arnhem he managed to reach the airbase Eindhoven, which just had been liberated.
Dogfights often were short and fast battles: One of the pilots tells this: 'A dogfight happened to you, one moment you were in the middle of it, a few seconds later you were all alone wondering where everyone had gone.' An example of this is a fight where a pilot downs two Focke Wulffs and got shot himself in only one minute. 'It was near Melun. Beautifull weather. We were flying at 6000 to 7000 feet when I spotted aircraft with black crosses. Focke Wulffs! I went after then dropping my bellytanks. It became and oldfashioned turning fight. Just at the moment I hit the First FW I got hit myself. I thought my aircraft was on fire and decided to bail out, but got aim on another FW which was chasing a Spitfire. I fired and killed him. Meanwhile my Spitfire appeared not to be on fire, so I could stay in it. The fight was over at that minute.'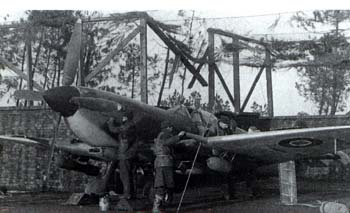 On october 10. 322 went back to Bigging Hill in England for a dive bombing training equipped with the Spitfire XVI which had the American version of the Rolls-royce Merlin motor, which proved less reliable than the original version. Only on januar 1. 1945 322 returned to Europe's mainland to operate from Woensdrecht in Holland. From this base 322 attacked many ground targets in the Netherlands and Germany. Most casualties were caused by FLAK. German fighters were seldom seen. Most of them were grounded by lack of fuel. One trick the Germans used to catch allied aircraft was setting up a trap with a fake target like a train protected by heavy FLAK.
On march 22. and 23. 322 has the honor to escort queen wilhelmina on her trip to Brussels and back to England. On april 1. 322 had a recon mission over the area Deventer-Zwolle-Meppel-Lingen-Hengelo. Due to bad weather and clouds at 500 - 1000ft they had o fly low and were greeted with heavy FLAK. 4 aircraft were hit, one pilot got killed. J.C. van Roosendaal managed to return to the squadron three weeks later after escaping from the Germans. While following the frontlines 322 transferred often to several bases in the Netherlands and Germany. Germany surrendered on may 5. while 322 was based at Varrelbusch. The last mission was at may 7.: a patrol over Bremen. On october 7. 1945 322 went to Lasham to return their equipment and it became a paper squadron.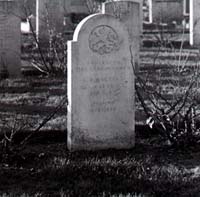 During the 17 moths of active operations, 18 pilots were killed, 10 of them in 1945, and some others got wounded and/or prisoner. A few managed to return to the squadron and rejoined. Others were found in hospitals after the liberation. 322 flew 6382 hours in 4896 operational flights. On june 10. 322 attended at the parade over Berlin and later over Brussel, Amsterdam and Den Haag.
On September 27. 1946 322 was activated again with Spitfire IX's and saw action in Indonesia from november 1947 to October 1949 and in New Guinea from november 1960 to october 1962. Since the NATO is flying over Yugoslavia 322 has been stationed at Villa Franka a few times. It saw action again at the first night of attacks over Kosovo. It escorted USAF bombers (what they are trained for) and shot one MIG 29. After that the squadron has been reassigned to ground attacks. The week after easter 1990 322 returned home and 315 took over the actions.
---

---
Sources: '322 Squadron. Sporen van zijn verleden, lijnen in zijn geschiedenis' by W.H. Lutgert and Bart Sorgedrager
'Het Vliegerskruis. Voor initiatief, moed en volharding' by H.G. Meijer and R. Vis
'Opdracht uitgevoerd. De Nederlandse oorlogsvliegers 1940-1945' by Bart van der Klaauw
'Operationeel. De Koninklijke Luchtmacht in bedrijf' by Wim Kock
Studygroup Airwar 1939-1945
Many thanks to Michael Lewis for his research
Thanks to the Sectie Luchmachthistorie for pictures and allowing us to do research.